Should You Pay for a Checkmark on Twitter?
---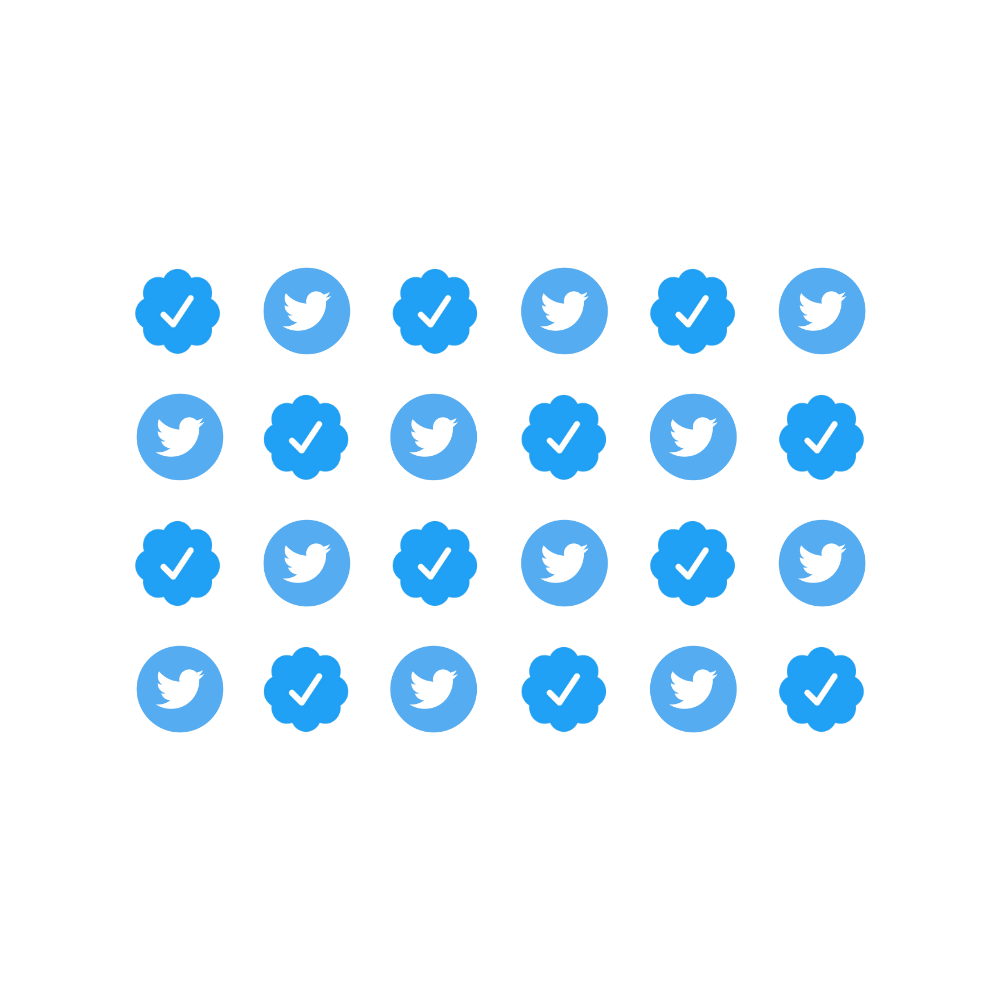 May 9, 2023 / Laura Greinke
As Twitter begins the forced adoption of its paid verification program by eliminating 'legacy' blue ticks, many users and brands are contemplating whether to invest in a new checkmark. However, the decision is not straightforward, as several factors may influence the outcome. Twitter Blue is a premium service that offers users a range of new features that are not available to regular users. In this blog post, we'll be discussing the pros and cons of joining Twitter Blue, as well as things to consider before signing up.
Pros of Twitter Blue
Ad-free experience
One of the biggest advantages of Twitter Blue is the absence of ads while browsing your timeline. This creates a more streamlined and less cluttered experience for users. With an ad-free experience, you won't be distracted by irrelevant content, allowing you to focus on the content that matters to you.

Bookmark folders
Twitter Blue allows users to create folders for bookmarks, which makes it easier to organize saved tweets. This feature is useful for users who frequently save tweets and need to find them later.

Undo Tweet
With the "Undo Tweet" feature, you can retract a tweet that you've just sent, giving you a brief window of time to edit or delete it before it's visible to the public. This feature can be a lifesaver for users who have sent out a tweet that they regret.

Reader mode
Twitter Blue includes a reader mode that organizes threads into an easy-to-read format, making it easier to follow conversations. This feature is especially useful for long threads with multiple participants.

Dedicated customer support
As a Twitter Blue subscriber, you'll have access to a dedicated customer support team to help you with any issues that arise. This level of customer support is a huge plus for users who have had issues with Twitter in the past.
Cons of Twitter Blue
Cost
Twitter Blue's pricing starts at CAD $8 per month, which may not be worth it for everyone. This cost might be a significant expense for users who are on a tight budget or who don't use Twitter frequently.

No guarantee of exclusivity
There's no guarantee that Twitter Blue features will remain exclusive to subscribers, as Twitter may eventually make them available to all users. This lack of exclusivity may be a concern for users who are considering Twitter Blue as an exclusive offering.

Things to consider
How frequently do you use Twitter?
If you use Twitter frequently, the additional features provided by Twitter Blue may be worth the cost. However, the additional features may not be necessary if you only use Twitter occasionally.
Are you bothered by ads?
If you find ads on Twitter annoying, Twitter Blue may be a good option for you. However, if you're not bothered by ads, the ad-free experience may not be a significant selling point.
Do you frequently bookmark tweets?
If you frequently save tweets, the bookmark folder feature may be helpful in organizing your saved tweets. However, if you don't save tweets often, this feature may not be essential.
How important is customer support to you?
If you've had issues with Twitter in the past and could benefit from dedicated customer support, Twitter Blue may be worth considering.
Are the additional features worth the monthly cost for you personally? Consider whether the additional features provided by Twitter Blue are worth the monthly cost, and if they add enough value to your business.
Is Twitter Blue around for the long run?
With major outlets like The New York Times and the Los Angeles Times and professional athletes like LeBron James declaring that they won't be paying forTwitter's blue checkmark, there may be an expiration date on the program. There is potential for Twitter to cave to public pressure and remove the price barrier to the verification process.
Overall, Twitter Blue provides a unique experience for those who want to get the most out of their Twitter account, but it's important to weigh the pros and cons before signing up.