Too much data. Too few insights.
Discoverability is a growing challenge for creators the world over.  Media stakeholders must plan how to make their content stand out and then track the results to stay competitive. Traditional data sets are too narrow. Digging for analytics on the many platforms where today's audiences engage is time-consuming. And time is money.
ScreenMiner™ aggregates data from multiple sources and creates visualizations that deliver instant meaning. Platforms and producers can leverage the insights to optimize domestic and global audiences. Funders can track the relative performance of projects and make informed decisions about future content. Industry and investors can access unprecedented insights about the screen media sector and return on investment.
Stop leaving views on the table.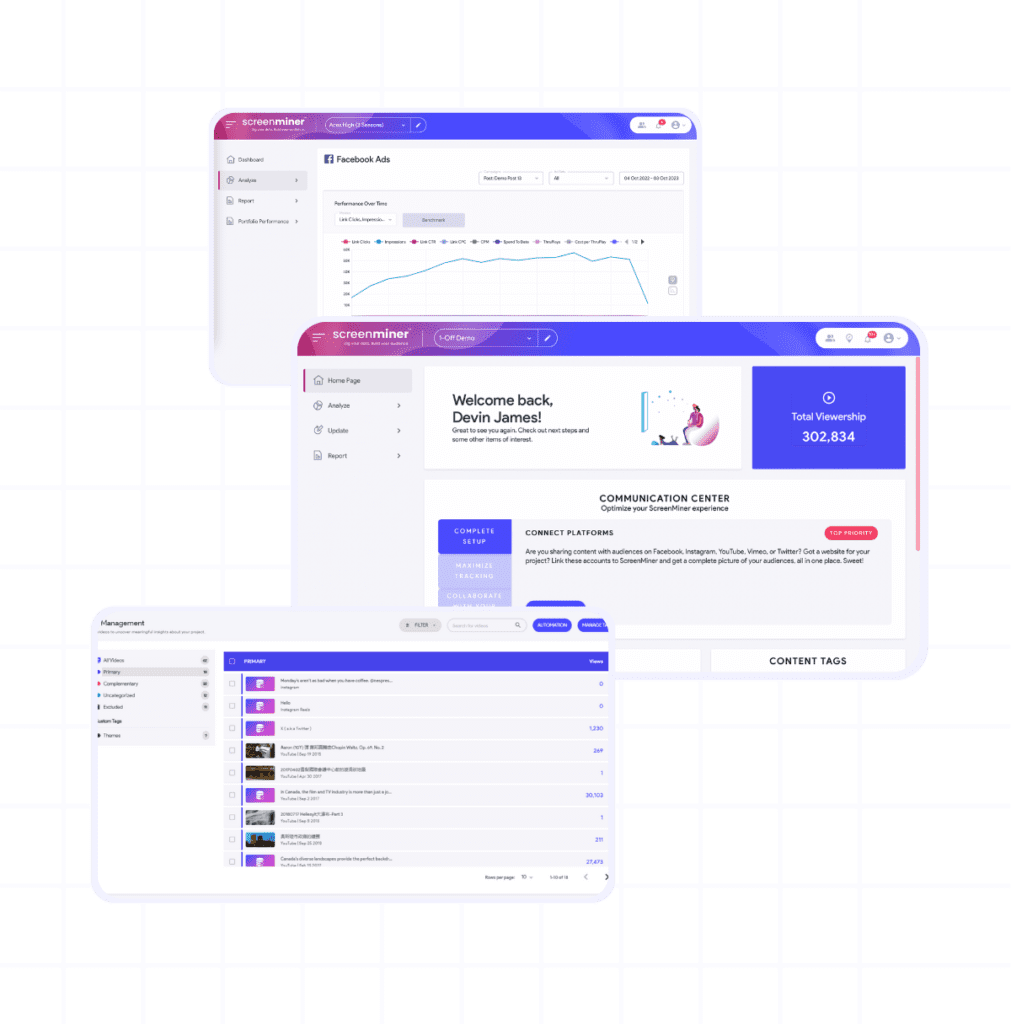 Gather sort store
Data flows into the powerful ScreenMiner data warehouse via API, upload, or input. It's cleaned, verified, and organized ready for machine learning and artificial intelligence. You can't do that with old databases or spreadsheets.
Visualizations
See the platforms and content that is driving audiences, then slice and dice to reveal viewership by episode, season, time frame, content type, and more. Best of all, compare your data against industry wide benchmarks. Now that's a first.
Go deep
What if you could quickly divide your videos and analyze viewership by group? Wait, you can with ScreenMiner's advanced video management system. Tag videos by sponsor, director, story line … whatever category you choose. Makes reporting a breeze.
Group Analysis
See how an entire cohort of content is performing or see the viewership and engagement for similar projects right down to the relative cost per view.
ScreenMiner's powerful data warehouse integrates audience inputs from quick links and report uploads. Are you ready for unprecedented AI-powered insights?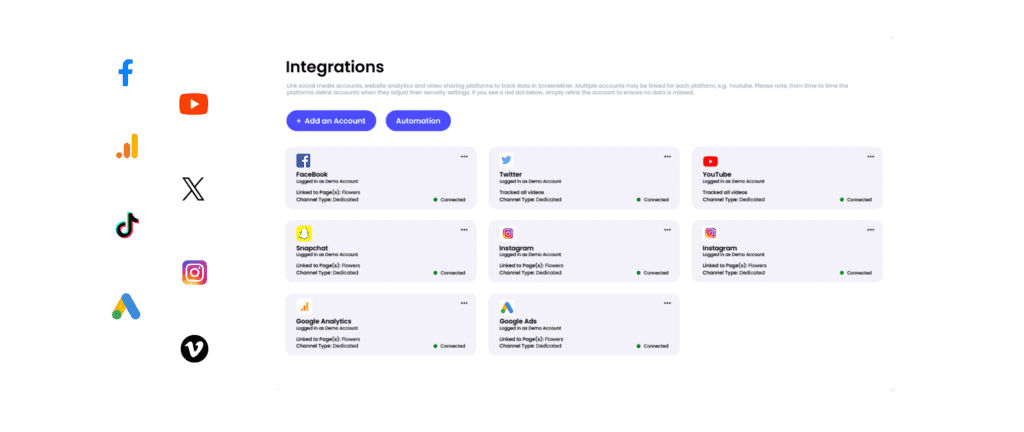 Why users are digging ScreenMiner!
PICBOIS PRODUCTIONS
Cindy Labrache
"The ViewerCentric (now ScreenMiner) platform allows us to centralize our campaign data in one place and optimize the time we spend on reporting and analysis. It's a relevant tool that we are happy to work with."
CHAMPIONS
Phillipe Miquel
"I used to see the reporting of the performance of our discoverability campaign as a mountain to climb. I have to admit that ViewerCentric (now ScreenMiner) has really made my job easier."
GALA PRODUCTIONS
Giulia Frati
"An efficient and essential tool for the follow-up of our discoverability efforts and the success of our " Ask TiDoc' "series."
VIVRE TOUS ENSEMBLE 2 and GÉOLOCALISER L'AMOUR
Jean-François Raynaud
"It is beneficial to be able to see at a glance trends from ingested data provided you set up the accounts."
JENNY
Marie-Ève Laliberté
"Using ScreenMiner is simple and offers more and more possibilities. This tracking tool makes things much easier and saves me time when it comes to producing audience reports for funders. It also lets me know at a glance which platform is performing better and which publication(s) are getting the most response. The webinars enabled me to quickly familiarize myself with the ScreenMiner interface and discover how to optimize my use of it. It's a tool I highly recommend."
VIDANGES
Vincent Chabot
"It's good to know that there's a solution adapted to our needs as a producer to centralize the management of campaigns and discoverability initiatives for our series. The Screen Miner team is always ready to listen to our needs and optimize the platform in line with the changing realities of the industry."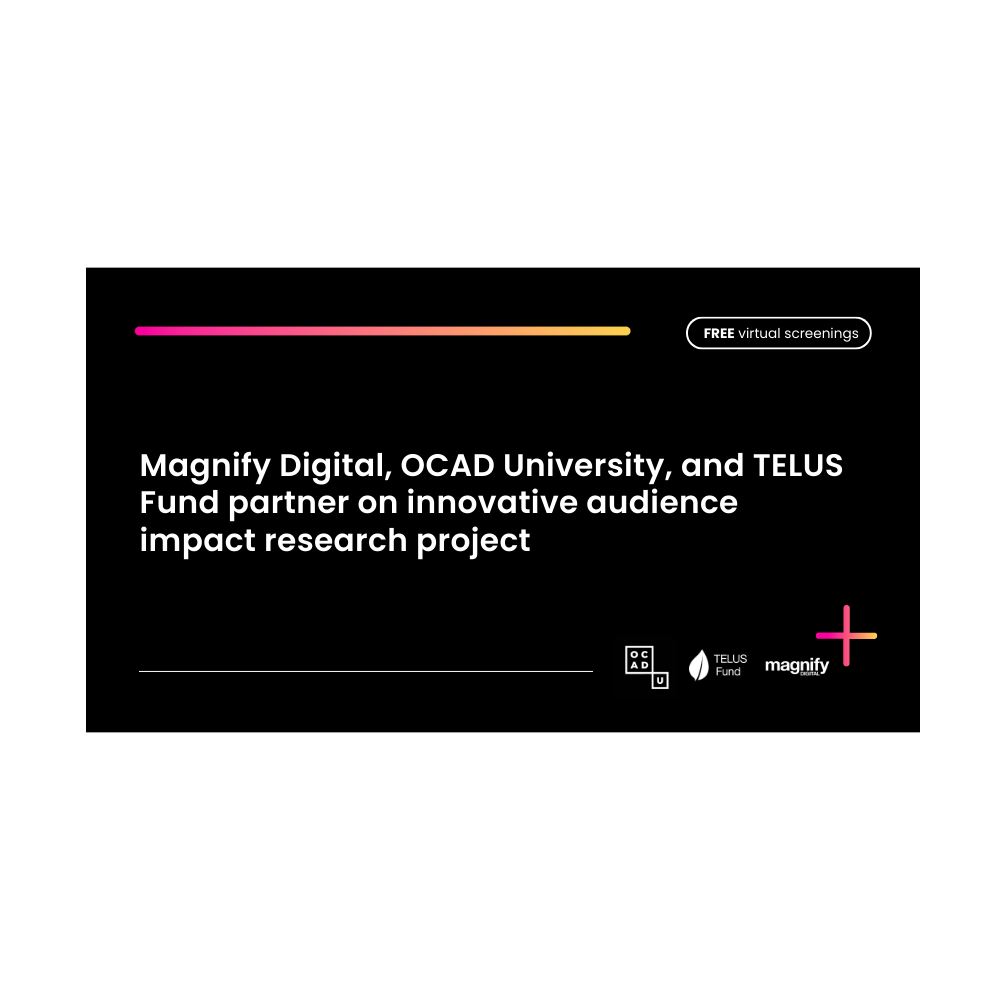 Industry
August 10, 2023
How do screen media products engage and impact audiences? You're invited to participate in an innovative research project that seeks to answer this question! In a ground-breaking collaboration, Magnify Digital, OCAD University, and TELUS Fund have developed a suite of tools set to revolutionize audience impact measurement for screen media. With 18 months of dedicated research, this effort goes beyond ...